12th January 2021
SOCIAL CARE & FRONTLINE WORKERS' DAY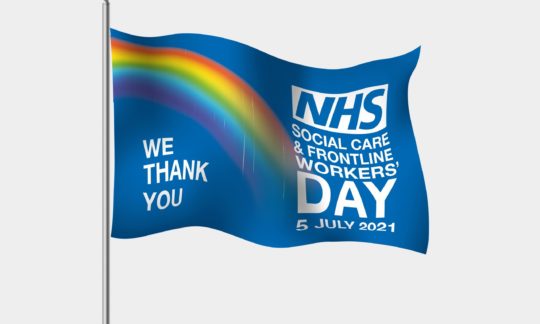 July 5th 1948 was an historic moment in our country's history. It was the day our pioneering National Health Service (NHS) was born, bringing free healthcare to everyone. We have treasured it ever since, but never more so since March 2020 when the Coronavirus pandemic gripped the UK and utterly changed all our lives.
We were suddenly at war with a ruthless, invisible enemy and on the front line were our NHS doctors, nurses and paramedics, plus platoons of critical workers keeping our shops open and stocked, our streets safe and our essential services running.
Now we have the chance to show our gratitude to all NHS and front line staff with an annual day of thanks, and remembrance of those who lost their lives because of this dreadful disease. The first NHS, Social Care and Frontline Workers' Day takes place on Monday, July 5th 2021 with a series of events involving every aspect of society and raising money for two excellent causes – NHS Charities Together, which supports 250 hospitals and their charitable trusts, and the National Care Association, representing 1.6 million workers caring for some of society's frailest citizens.
If every household, business, school and organisation raised just £5 on the day, it would make a massive difference to these amazing causes.
The Daily Express has enthusiastically agreed to be our national print partner, and these organisations have also pledged their support:
The United Grand Lodge of England, National Federation of Women's Institutes, One Voice Wales, Combined Cadet Force, British Beer & Pub Association, Brass Band England, National Care Association, Bob Wilson Funfairs and Showmen's Guild of Great Britain, National Association of Civic Officers, Local Government Association, Central Council of Bellringers, English Heritage and Osca Research Ltd.
You can find out more about the events we have planned here and you will be able to register to take part from January 2nd 2021.
Let's make this a true nationwide celebration and show our appreciation of everything NHS staff and all key workers do for our country.
There are lots of ways you can get involved in NHS, Social Care and Frontline Workers' Day on July 5th 2021, and raise money for NHS Charities Together and the National Care Association while you're having fun. This is what we have planned. Visit WEBSITE