7th January 2021
Making a real difference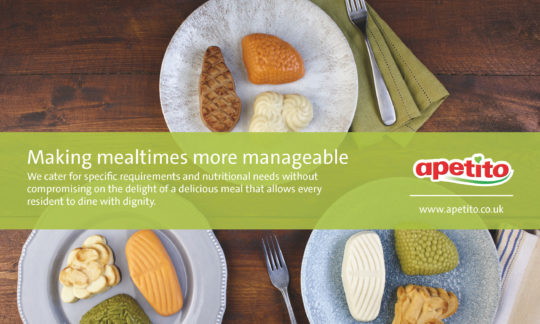 apetito donates £40,000 to charity this Christmas
In a year that has proven incredibly challenging for charities supporting those who need help the most, leading Care Homes meals provider, apetito, has made donations this Christmas of over £40,000 to charities who work with some of those most affected by COVID.
The first of these is Alzheimer's Support, apetito's long-standing Charity Partner at its Wiltshire home. The £20,000 donation will help support the charity's day clubs which provide respite to people with dementia.
The Trussell Trust - which supports a nationwide network of food banks – will receive a donation of £10,000. This year alone has seen referrals to food banks increase by more than 89% with 50% of these individuals never having used a food bank previously.
The Salvation Army is the third charity that will benefit, with apetito donating £10,000 to The Salvation Army's Christmas Appeal. As well as being a long-standing customer of apetito, The Salvation Army is renowned for supporting older people, families and the homeless.
Alzheimer's Support CEO Babs Harris said:
"We are thrilled to receive this very generous donation which will make a real difference to the support we are able to provide in Wiltshire. We are so proud of our partnership with apetito.
"The company is committed to helping people live well with dementia and has a deep and genuine understanding of our work. We love the fact that apetito encourages its employees to spend time in our day clubs and groups, gaining insight into the lives of people affected by dementia and seeing how the money they raise for Alzheimer's Support is spent.
"Strong connections have been built as a result and when apetito' employees fundraise for us, whether it is doing a skydive or running a cake stall, they know at first hand the positive impact of their efforts. This is corporate social responsibility at its best. Thank you apetito."
Paul Freeston, Chair and CEO, apetito UK and North America said:
"2020 has been an incredibly challenging year and we fully appreciate that this year, more than ever, every penny counts to help those in greatest need. When COVID first appeared, few of us foresaw the impact it would have on our lives. 
Normally, our company supports a number of team' and customer Christmas social events which cannot take place this year due to COVID restrictions. Instead, we have decided to redirect these funds - and much more - into making a real difference to some of those most affected by COVID."
For more information on the work apetito does to support its customers and local community, visit www.apetito.co.uk/about-us/our...
-Ends-
For further information please contact
caroline.hole-jones@apetito.co.uk 07867987675
About apetito:
apetito, is the UK's leading creator and supplier of meals for the health and social care sector, partnering with 600 care homes and providing meals to over 20,000 residents each day. The company is renowned for its delicious and nutritious meals which enhance health and wellbeing of residents, including those who have special dietary requirements including food allergies or need a texture modified diet.
Each recipe is developed to meet precise nutritional standards – in line with the British Dietetic Association guidelines and Government Buying Standards for Food and Catering. As proud supporters of the care industry, apetito partners with many industry organisations such as the National Care Association, National Care Forum and Care England. apetito was also a founding partner of the Malnutrition Taskforce.
apetito is a three-time winner of the UK's highest business accolade, The Queen's Award for Enterprise, most recently in April 2019, awarded for Sustainable Development. The company is proud to be an accredited Living Wage employer, and to operate in an ethical and sustainable way that respects the environment, people, and the wider community.
www.apetito.co.ukwww.apetito.co.uk
It's not a typo! As many of you will be aware, we have always spelled our name apetito with a lower case 'a'. We thought it useful to just add this reminder as it's easy for automatic spell check to correct it for us!