19th December 2019
Coroner's Court Support Service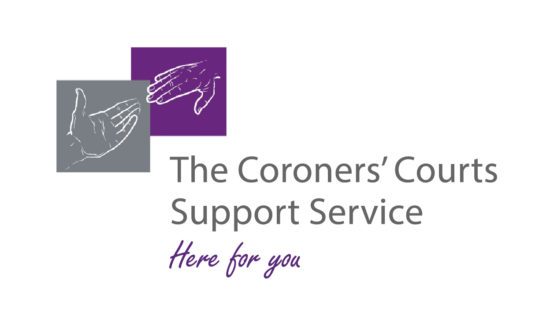 Coroners' Court Support Service is a charitable organisation which offers practical and emotional support to those involved in an inquest whether as a relative or friend of the deceased or someone called as a witness. We currently have teams of trained volunteers supporting bereaved families at court on the day of inquest. We also offer our support to witnesses, both lay and professional, who have been summoned by the coroner to attend an inquest as a witness. We also have a helpline enabling us to offer help and support at an earlier stage during the inquest process.
Below are links to electronic copies of our leaflets. If you feel it would be useful for us to send you some hard copies of these leaflets, please get in touch and we can arrange for this to be done. Likewise, if you would like to know more about our service and how we may be able to work together to support people who come to you in the first instance, please do not hesitate to contact us.
Please make use of the leaflets below, which can also be requested in hard copy. These can be shared with bereaved relatives and friends or affected staff members if the death of a resident has been referred to the Coronial Service.
Helpline Leaflet
https://coronerscourtssupportservice.org.uk/wp-content/uploads/2019/07/69473_CCSS_Bereavement_6pp_DL_May_19_lr.pdf
Information on attending an Inquest
https://coronerscourtssupportservice.org.uk/wp-content/uploads/2019/07/69473_CCSS_6pp_DL_Information_Leaflet_May_19_lr_1.pdf
The Helpline Team
The Coroners' Courts Support Service
Helpline +44 (0) 300 111 2141