12th January 2021
APETITO LAUNCHES NEW PLANT-BASED DISHES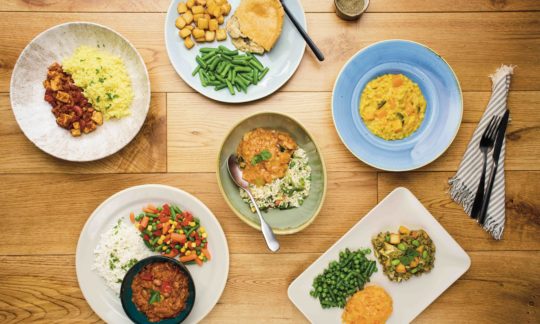 As research shows that the number of vegetarians in Britain will increase from 5% of the population to 10% in the next two years*, leading care homes meals provider, apetito, has launched eight new plant-based dishes as part of its innovative 'Culinary Inspirations' series.
Plant-based food is now one of the fastest-growing food trends across the country. As of 2019, there was an estimated 600,000 people in the UK who follow a vegan or vegetarian diet, alongside a significant rise in 'flexitarianism' - the trend of eating less meat and more vegetables without adopting full vegetarianism.
apetito's in-house chefs and dietitian worked alongside guest chef Lydia Downey, who specialises in plant-based cooking, to create this vibrant collection of dishes. New dishes include a fragrant Thai Red Curry, creamy Butternut Squash Risotto, and an exotic BBQ Mexican Bean & Jackfruit dish.
Lydia commented: "I hope our new meals will introduce some new flavours to care home residents who may not have tried them before, whilst encouraging them to eat a different type of cuisine which is both delicious and nutritious.
"Nutrition is incredibly important to me when I'm creating a dish, particularly focusing on elements such as protein and fibre as well as including a varied assortment of vegetables, all of which are essential considerations when making a plant-based meal."
The British Dietetics Association and The Vegan Society are working together to promote how a well-planned plant-based diet can support healthy living in people of all ages and have reinforced that vegan options should be available in all UK care homes.
A plant-based diet, can provide all the nutrients necessary for good health, including essential fats, protein, and vitamins and minerals. Indeed, studies suggest that plant-based diets which are low in saturated fat can help with the reduction of diseases such as heart disease and type 2 diabetes. Moreover, many of these dishes are energy dense, meaning patients get all the nutrients they need in a manageable portion size.
Furthermore, a plant-based diet is better for the environment and can reduce food-related carbon emissions by as much as 50 per cent. Research has associated vegan diets with the lowest emissions of carbon dioxide and so increasing plant-based options helps make catering services more sustainable.
Neil Hargreaves, Divisional Manager – Care Homes, said:
"We know from talking to our customers that there is a rapidly growing need for more variety in vegetarian dishes as more people opt to follow a plant-based diet, whether for animal welfare, environmental or health reasons.
"We have developed these eight new dishes to add fresh inspiration to our range, and our aim is to enable homes to offer residents an enhanced choice in dishes, with flavour they will love, while delivering exceptional nutrition."
apetito works in partnership with care homes to serve great tasting nutritious food that represents value and best practice; supporting diverse residents' needs with differing dietary and medical requirements.
For more information on Culinary Inspirations, check out https://www.apetito.co.uk/our-... or contact 01225 560 136.
Full list of plant-based dishes:
• Vegan Thai Red Curry
• Fajita Style Tempeh
• BBQ Mexican Bean & Jackfruit
• Vegetable Gratin
• Beetroot & Feta Frittata
• Meat Free Mushroom and Chicken-Style Pie
• Katsu Curry
• Butternut Squash Risotto
-Ends-
For further information please contact
caroline.hole-jones@apetito.co.uk 07867987675
About apetito:
apetito, is the UK's leading creator and supplier of meals for the health and social care sector, partnering with 600 care homes and providing meals to over 20,000 residents each day. The company is renowned for its delicious and nutritious meals which enhance health and wellbeing of residents, including those who have special dietary requirements including food allergies or need a texture modified diet.
Each recipe is developed to meet precise nutritional standards – in line with the British Dietetic Association guidelines and Government Buying Standards for Food and Catering. As proud supporters of the care industry, apetito partners with many industry organisations such as the National Care Association, National Care Forum and Care England. apetito was also a founding partner of the Malnutrition Taskforce.
apetito is a three-time winner of the UK's highest business accolade, The Queen's Award for Enterprise, most recently in April 2019, awarded for Sustainable Development. The company is proud to be an accredited Living Wage employer, and to operate in an ethical and sustainable way that respects the environment, people, and the wider community.
It's not a typo! As many of you will be aware, we have always spelled our name apetito with a lower case 'a'. We thought it useful to just add this reminder as it's easy for automatic spell check to correct it for us!