Suppliers
Suppliers Directory
Suppliers Directory Content Here
Ridouts Professional Services PLC

(NCA Sponsor)
---
7-10 Chandos Street, London, W1G 9DQ
---

At Ridouts, we know the health and social care sector and the details that can make the difference to your business. We provide legal, operational and strategic advice to providers who are faced with matters that could negatively impact their businesses.
We help our clients to find defences and positive outcomes to, often, commercially damaging situations. We work with you to manage and reduce risks presented to your business which, in turn, preserves business value.
Our work covers a whole spectrum of matters that may affect your business, including:
Challenging CQC inspection reports and ratings
Challenging CQC notices to suspend, cancel or vary registration
Challenging warning notices, fixed penalty notices and prosecutions
Appeals to the First-Tier Tribunal
Health and safety investigations and prosecutions
Registration advice and challenges to refuse
Advising on mental health and DoLS
Safeguarding investigations and Safeguarding Adults Reviews
Advising on commissioner fee and contract disputes and embargos
Coroner's Inquests
Police investigations
Regulatory due diligence
At Ridouts we only act for providers and other bodies that advise the sector, such as other law firms looking for our expertise. This specialism means that, not only, do we know the law that governs the sector, we also know the nuances that come into play. After all there is no textbook way of operating a care business and you need solicitors that don't just know the regulations, but how to interpret them in the context of multi-faceted pressures, conflicting stakeholder input, and put simply, what the day job looks like for you.
Sometimes matters can arise out of nowhere, other times there can be a slow, low-level build up, but whatever your situation, the team at Ridouts is on hand to help navigate you through the complexities that can arise. Running a health and social care business can be tough, but working together we can help lighten the load.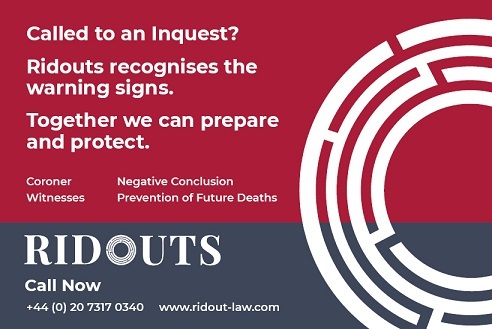 Sharp

(Supplier)
---
---

Making technology easy

Innovative yet easy to use technologies designed to support you in delivering person-centred care.
Stimulating and personalised digital activity provision
Enable residents to build up a digital personal profile with details about their life, discover engaging content and record the day's events and their feelings with intuitive RemindMecare software. Residents can keep an interactive log of their lives and care providers can capture data and outcomes.
Further embrace technology with our digital interactive touchscreens and tables which can be used for games and puzzles, playing videos, communicating with friends and family and more, keeping residents' minds active, encouraging independence and enabling staff to complete time-sensitive admin tasks.
Safe and compliant visitor management and tracking We can help you achieve secure contactless entry for staff and visitors, detailed contact tracing and health & safety as well as GDPR compliance, with Optimised Visitor Management systems. Effective and timely communication Keep your residents, staff, relatives and visitors informed of health and safety notices, news, updates or even menus through compelling and instantly updatable digital signage, and automate written communications with Hybrid Mail solutions. Secure printing and slick administrative processes Protect yourself from data breaches with secure and reliable print solutions, and reduce administration and digitise workflows with smart software solutions.
At Sharp, we've been inventing one-of-a-kind products for over 100 years. We know every customer is unique, so our service is completely bespoke and tailored.
Our mission is to make technology easy by listening, taking the time to understand our customers specific needs, and creating a seamless solution that works. We're a business built on relationships, and our wealth of knowledge and experience now covers: managed print services, visitor management, IT support and telephony, right through to meeting room solutions, audio visual technology, EPOS, furniture design and installation. For further information, and to discuss how we can support your care home, contact us for more information.
SOLLA

(NCA Sponsor)
---
---
The Society of Later Life Advisers (SOLLA) is a NFP organisation founded in 2008 to help older people and their families find trusted accredited financial advisers who specialise in the financial needs of those in later life.
Good financial advice should help you make clear and informed decisions knowing that you have had the information and choices presented to you in a way that helps you make the best choices and decisions for you or for a family member.
A SOLLA accredited financial adviser can offer the added reassurance that they can give the practical help and guidance needed to help you make the right decisions at the right time.
Why use a SOLLA member?
You can be confident in the financial advice you will receive because all of our members:
Are specialists in advising older people on financial matters.
Have been awarded the Later Life Adviser Accreditation (LLAA) which is independently audited and endorsed by the Government Body, the Financial Skills Partnership (FSP) and recognised as the 'Gold Standard in financial advice for later life planning
Follow a strict code of conduct.
SOLLA accredited advisers can give advice on:
Retirement Planning - pensions and annuities
Equity release and other property options
Funding for care home fees
Funding for care in your own home
Savings and investments
Tax matters and estate and wealth planning
Spiral Purchasing

(Supplier)
---
---
TIME. MONEY. PEOPLE
Spiral Purchasing supply care homes with the three essential resources vital for making their business successful.
Time. Money. People By working closely with care home owners on how they spend their money we release staff from time consuming supplier interactions. We utilise our knowledge of the many supplier markets you use to reduce what you pay for goods and services. We give you the resource of addition people working for you without it costing you a penny.

In fact, all our clients have one thing in common – all are cash positive for our involvement.

"RDCP Care have been working with Spiral for over 12months. They have been able to provide professional impartial advice to RDCP Care at no additional cost to our business across a wide range of supplier categories including gas and electricity, stationery, catering and chemicals, disposables, janitorial goods. We would have no hesitation in recommending Spiral to other independent and multiple care home operators."
Sameer Rizvi, Managing Partner, RD Capital Partners LLP
You may feel that the purchasing within your business is good already. But -
How often do you decide not to review an area of expenditure as you do not feel the return warrants the time spent?
How do you compare you costs to know how they sit in the marketplace? Saving 10% using another supplier is good unless you were overspending by 50% to start with. How do you know?
Are you busy spending time getting the best price but on the wrong products?
Who controls your supplier relationship? You or your supplier? Who dictates the products you buy? You or your supplier?
Do you accept price increases when levied by your suppliers? Do you know if those increases are valid or not?
Spiral Purchasing bring you clarity in the goods and services you buy for your business. Our knowledge and experience will ensure that we can quickly highlight areas where improvements can be made and will assist you in implementing those improvements.
We will look at and look after any area of expenditure with your business with the exception of your staffing costs. Your staff are your raw material and you are best placed to manage those costs. Everything else, the peripheral costs, are our domain.

"Over the past few years Spiral have worked with Sunrise/ Gracewell to reduce our electricity, printing, document management, and office supplies costs. I would have no hesitation in recommending Spiral to other Care Home operators due to the professionalism of their services across a wide range of supplier areas and the clear communication of their processes."

Christopher Dean, Director of Procurement UK, Sunrise Senior Living
Our work starts with a free no obligation audit of your current expenditure. This will highlight the potential of the work we can do for you before you need to commit to us in any way.
Stay Safe Support

(Contact)
---
---
StaySafe.support is a free information and resource website signposting older people and their family, friends and carers, to the wealth of expert advice and support under one umbrella site. The contents of this site aim to help older people stay safe, remain healthy and independent and prevent avoidable hospital admissions resulting from accidents in the home environment.
We are pleased to offer the book SLIPS, TRIPS and FRACTURED HIPS written by Emma Hammett RGN
Please following the link to get your free copy https://staysafe.support/slips-trips-and-fractured-hips/
In addition.
First Aid for Life is an Award-winning first aid training business that specialises in Care Certificate compliant first aid for Carers. Trainers are highly experienced health and emergency services professionals, group courses available nationally, and scheduled courses for individuals in London. For more information please visit www.firstaidforlife.org.uk or email Emma Hammett emma@firstaidforlife.org.uk
U-Visit

(Supplier)
---
---
U-Visit is a unique visitor management solution for care homes, allowing you to welcome visitors and take their details in a GDPR compliant, Covid safe way.
You are given a branded QR code to display in your reception area. Once the visitor scans this, and provides the data you need, it displays on your PC in real time.
From only £199 per year, this solution is safe and affordable.
Why U-Visit?
It is completely contact free.
It is GDPR compliant
You have control
It is affordable
It is simple to get set up
As visitors arrive in your care home, they simply scan the QR code we supply to you and their details are logged on the software. This keeps your premises as Covid safe as possible.
You decide how long you want to hold data for. All data collected is stored in the cloud so it's secure, and we can keep it for the length of time you tell us.
You can choose what data to collect. We do not tell you what data you should be collecting. You know your care home best and can decide what data you need from your visitors.
From only £199 per year, U-Visit keeps your staff, residents and premises safe and secure without breaking your budget.
We can work with you to get up and running within a couple of hours. There is no need for IT teams to be involved and training takes just minutes, since our software is built to be intuitive and user friendly.
To find out more about U-Visit, go to our website or fill in our enquiry form, and we will be happy to help.
UK Passive Fire

(Supplier)
---
---

We are a family run business with many years experience in the Passive Fire Sector.
We pride ourselves on been able to adapt and overcome the most difficult situations that are placed upon us.
Our unique approach ensures we build a positive working relationship with our clients achieving the desired outcome with the minimum disruption.
The purpose of Passive Fire is to contain or slow the spread of fire and smoke allowing sufficient time for evacuation and emergency response.
It plays a vital and increasingly significant role in safeguarding people, as well as limiting damage to buildings and their contents from fire and smoke.
Fire safety legislation now requires that building owners take full responsibility of all aspects of Fire Safety within their premises. They are required as part of their risk assessment process to ensure that the fire rating elements of the buildings structure meet current legislation.
Once a fire has started it is of paramount importance to stop the fire spreading to other parts of the building.
A fire can spread in many ways but the correct installation of fire stopping materials can prevent this.
Passive Fire Protection is a term that relates to practices and products. It refers to materials built into the structures of buildings that surround us which are intended to slow and or prevent the spread of fire.
If you want to find out more how UK Passive Fire Solutions can assist you please visit our website at www.ukpassivefiresolutions.co....
VAT SOLUTIONS​

(NCA Sponsor)
---
---
About VAT Solutions…
We are indirect tax specialists who have worked almost exclusively in the care sector since 2004. We have a unique combination of in-depth VAT and sector knowledge, dealing not only with HMRC on a daily basis (our technical team largely consists of ex HMRC inspectors), but also holding strong working relationships with the relevant contacts at local authorities, clinical commissioning groups and health trusts (NI) throughout the UK.
Unlike other general accountancy or tax practices, we use our very specific experience and network of contacts within the care sector on your behalf, thus ensuring that our service provides optimum benefit for your care operation. This level of sector expertise is unique to VAT Solutions. Our tailored approach and the robust systems we have in place, supported by prominent tax counsel and lawyers specialising in care sector regulation, allow us to offer an unrivalled level of expertise.
'At a time when our sector needs to maximise its financial position, I would encourage any care provider, no matter what size operation they have, to consider the cost benefits and commercial efficiency which the Vat Solutions 'contract restructuring' service has to offer.'
Ian Jarvis (Finance Director) - Kingsley Healthcare
Our Contract Restructuring Service…
In these challenging times of ever-increasing cost pressures, the restructuring service offered by VAT Solutions presents a new opportunity for operators (both private and not for profit) to recover VAT on an ongoing basis. By creating the vehicle for taxable supplies (by means of a VAT group registration), we therefore provide a structure which streamlines, centralises and optimises the efficiency of the administration and management of a care operation's local authority/CCG fee contracting process.
Not only does the new structure create considerable VAT savings for an operator, but also provides significant commercial benefits for the business in the form of improved efficiency and communication regarding local authority fees. Our history of positive and successful dialogue with local authorities and clinical commissioning groups, combined with our extensive and thorough implementation support, post implementation advice and ongoing consultative role provide our clients with the best possible outcome to maximise their VAT position.
'They were with us every step of the way throughout restructuring and implementation and their dedicated trainer worked with our finance team. We really appreciate their ongoing support whenever we need it and they form a 'niche' extension to our finance department, plus the opportunity they presented to our business has delivered real benefits above and beyond the norm. It is the contacts, relationships and reputation which they hold within the sector, coupled with their in-depth knowledge of the workings of the care industry, that allow them to maximise the commercial benefit to care operators like us.'
John Hill – Hill Care Ltd
Westfield Health

(NCA Sponsor)
---
Westfield House, 87 Division Street, Sheffield, S1 1HT
---
National Care Association and Westfield Health are pleased to introduce the Foresight Healthcare Plan to members. Whether you need an effective absence and risk management tool, or a valuable employee benefit, the Foresight Plan has been designed to meet your needs as well as providing the health benefits most popular with your employees. All from just £1 per employee per week!