14th August 2018
Moving Up leadership programme from Skills for Care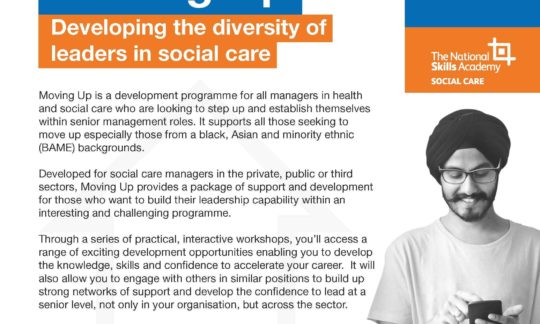 "Our Moving Up Programme, developed in partnership with LGA and ADASS, is an established leadership programme for BAME managers.
This programme addresses the disappointingly slow progress in advancing people from BAME backgrounds into senior leadership positions in adult social care. Focused on leadership across the public, private and not-for-profit sectors, this programme is a vital part of our offer to ensure that social care has access to high quality leadership at a time when this is needed more than ever.
It is this time in the year where we are preparing and working hard on planning the next cohort of the Moving Up programme, which starts on 9 November 2018. It includes interactive workshops and residential development sessions over a five month period, exploring leading-edge thinking and practice and includes action learning, peer support and fantastic networking opportunities to BAME managers with the potential and desire to move into senior roles in the sector.
More details can be found on the attached flyer and on our website.
If you have any questions, or anyone wants to speak to us directly about the programme, please contact Symone Stuart, Programme Manager at Symone.Stuart@skillsforcare.org.uk or call 0207 383 8944."
Message from Sharron Allen, Chief Executive
Skills for Care