11th September 2018
Talk Health and Care Communications toolkit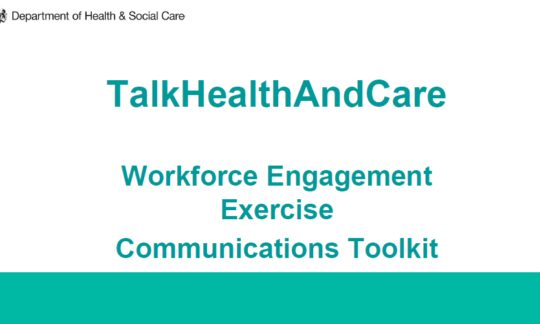 The Department of Health and Social Care are really keen that really as many staff as possible get every opportunity to hear about the platform and share their views. That's why they've developed a communications toolkit for you to understand a bit more about what they are trying to do, and how you can share the message through your channels. ACCESS THE TOOLKIT HERE
Massive national conversation with health and care staff launched by Secretary of State for Health and Social Care as part of his pledge to make workforce a key priority
Digital platform created so staff can feed in views on five 'key challenges' on their phones and tablets on the go, alongside nationwide events
Matt Hancock pledges to work with health and care system to clamp down on violence against staff and tackle bullying and harassment.
Millions of health and care staff will be part of the biggest health and social care conversation in British history, as a new national engagement exercise is launched by the Secretary of State for Health and Social Care Matt Hancock.
The Secretary of State will give a speech to staff at Southmead Hospital Bristol later today, on a visit where he will meet and thank clinicians from 'the bottom of his heart' for treating and saving the life of his sister last year.
On the visit he is expected to set out why the NHS is, for him, "deeply, deeply personal" and set out plans to give all 3.1 million health and care staff in England a voice in the day to day creation of policy. His visit to Southmead Hospital follows an earlier one to local care provider St Monica Trust.
As part of his drive to bring health and care into the 21st century, he is launching this as a new digital platform called 'TalkHealthandCare', which staff can use quickly and easily to post ideas, questions and challenges for Government.
It will be available on phones and tablets, evolving and updating to reflect the views and ideas of staff in real-time. It will also be supported by a swathe of other events, forums, and webinars for staff across the country.
Secretary of State for Health and Social Care Matt Hancock is expected to say:
"Millions of hard working health and care staff turn up to work every day to meet any challenges tirelessly, with unending compassion. But they don't just do this for money or other contract benefits. They do it to improve and save the lives of countless strangers, and in return it's only right that they are valued, supported and developed.
"But too often health and care employers, despite the NHS being the world's fifth largest employer, don't get this right. It's time we hear from health and care staff about what they really have to say about the jobs that are at the heart of this country."
'TalkHealthandCare' has been launched in recognition of feedback from staff via surveys and other routes, that far too often staff aren't feeling valued at work. Among some of the known issues that 'TalkHealthandCare' will be seeking views on include improving shift patterns and juggling home and work lives, speeding up the use of helpful technologies which cut out paperwork and give staff time back, and training and development.
In particular, the Secretary of State has expressed concern about the high number of reports of bullying and harassment, and has reiterated his wish to ensure these issues aren't accepted and 'put in the too difficult pile'.
The most recent NHS staff survey found:
over 15% of staff experienced physical violence from patients, relatives or the public, with that figure rising to 34% for ambulance staff
28.0% of staff (47% at ambulance trusts) experienced harassment, bullying or abuse from patients, relatives or the public
24% of staff experienced harassment, bullying or abuse at the hands of their own colleagues
12% of staff reported feeling discriminated against – and that figure rises to 24% for BAME staff.
To help protect paramedics from violence and increase prosecutions, the Department issued 465 ambulances and their paramedics with body cameras earlier this year. NHS employers are also introducing fast-access systems to speed up access to free mental health support and physiotherapy for their staff.
While NHS England and NHS Improvement are working to develop further ways to prevent and reduce violence against health and care staff, 'TalkHealthandCare' will seek views on what needs to be done to make staff feel safe and secure at work.
The Department of Health and Social Care is also launching a brand-new Workforce Panel made up of a range of staff, which the Secretary of State will meet with as a personal sounding board on issues affecting health and care staff across the country.
The Secretary of State will add:
"Nobody knows what needs improving more than hard-working staff themselves, so my message is clear: we are listening to you, we want your views, and we will use them to ensure the long-term plan for the NHS helps you."
Professor Jane Cummings, Chief Nursing Officer for England said:
"The celebrations around the NHS 70th anniversary showed again just how much the public value NHS staff. Listening to the views of the frontline and understanding what matters to them will help us design a long term plan that delivers for the public and makes the NHS a great place to work."
Dr Ruth May, Executive Director of Nursing at NHS Improvement, said:
"We welcome the launch of this online tool as an opportunity to help the NHS listen to and support its staff, so that they feel happy, healthy, safe and valued.
"This complements our own work with trusts on ways they can provide their staff with a positive and supportive working environment as we continue to develop a long-term plan for the NHS. This includes working with NHS England and the Social Partnership Forum to support trusts in addressing bullying, harassment and incidents of violence against staff, helping to shape a positive culture where staff can speak up and where prevention and effective response to incidents are prioritised.
"It is important for the NHS to listen to staff views about their working lives. Doing this will ensure the NHS develops a holistic package of support that acknowledges and meets the needs of its people, so that they can provide high-quality care for patients at all times."
Danny Mortimer, chief executive of NHS Employers, said:
"Employers recognise that our talented and committed people really are what makes the health and social care sector in this country so highly regarded.
"As employers we know the importance of engaging with our people, and this could be an important new tool for that purpose, supporting the vital work that trade unions do to represent the concerns and aspirations of their members locally, regionally and nationally.
"Through harnessing technology, TalkHealthandCare has the potential to amplify the voices of millions of frontline staff, and help the Secretary of State and other national leaders to gain better access to the insight and expertise that rests in the people who work in health and social care."
Dr Andrew Goddard, Royal College of Physicians (RCP) president-elect and registrar, said: "We welcome DHSC's new TalkHealthandCare platform and are pleased that the government has shown its commitment to tackle the significant challenges NHS staff face every day. "Frontline health and care professionals already face growing pressures across the board in being able to deliver life-changing and life-saving care for patients, and should never have to face harassment, abuse or bullying in their roles. Our recent reports show that doctors are overstretched and under-resourced, and with morale at an all-time low, it is vital we tackle this culture urgently to make sure health professionals can do their jobs in a safe and supportive environment. "We urge all health professionals to make sure their voice is heard via this new platform so that a real change in culture can be achieved."
Health and care staff can join the conversation at https://dhscworkforce.crowdicity.com
Notes to editors
'TalkHealthandCare' is centred around five key Challenges that health and care employers encounter:
Challenge 1: Staff are equipped to do their job: getting the basics right;
Challenge 2: Staff feel safe and secure: working without fear of bullying, discrimination or violence;
Challenge 3: Staff feel included and valued: belonging to an organisation that respects and values everyone's contribution;
Challenge 4: Staff are developed: having access to the training, development and support staff need;
Challenge 5: Staff feel empowered: achieving their full potential.