8th August 2017
Advancing care: research with care homes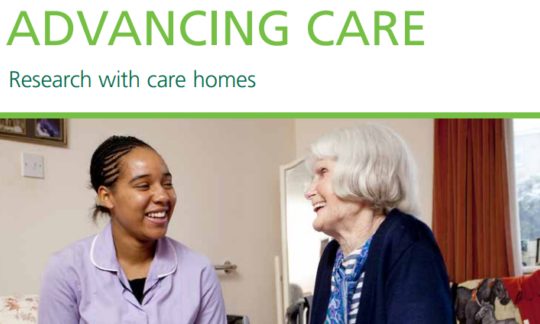 Advancing care: research with care homes
This review reports on three themes relating to the care of older people in care homes: maintaining good health and quality of life, managing long term conditions associated with ageing, and ensuring a good quality end of life. It features published and ongoing studies alongside views from care home staff and researchers.
With thanks to NCA Board Director Joyce Pinfield who has contributed to the report.
"Every day, there are more than twice as many people living in care homes in England and Wales than staying in hospital. And yet historically there has been much less health care research in care homes. We know far more about effective treatments in hospitals and less about what works most effectively to improve care and experience for older people living in care homes. But this is changing. In this report, we can see examples of different kinds of research supported by the NIHR in and with care homes. These include some of the most vulnerable people in our community with complex health and care needs. Research can help care homes to support residents to live well, age well and to achieve a comfortable and dignified death. We also need to work well together, joining up the services of NHS and other professionals with staff working day and night in care homes. There is more to be done, but this report shows how research is addressing some of the real challenges for those working and living in care homes."
Professor Martin J Vernon National Clinical Director for Older People and Person Centred Integrated Care, NHS Englan