Suppliers
Suppliers Directory
Suppliers Directory Content Here
Confidential Document Destruction Ltd

(Supplier)
---
Prentis Quay, Mill Way, Sittingbourne, ME10 2QD
---
Confidential Document Destruction.
Do your employees fully understand what confidential paper work really is, do they know what should be disposed of in the correct and safe manner. Do you want to ensure your confidential paper work is handled, destroyed and put back into the recycling chain?
CDDL can offer a full secure chain for your confidential paper work. We can offer all types and sizes of containers or bags to securely hold the paper work and we offer scheduled or ad hoc collections to keep your security risk to a minimum.
If we can help with your confidential documents, your GDPR compliance please contact us on tony.hughes@confidentialdocumentdestruction.org.uk or 07798 923622 or www.confidentialdocumentdestruction.org.uk
Courtney Thorne

(Supplier)
---
C-T Centre, Elliot Road, Bournemouth, BH11 8JS
---
Courtney Thorne is proud to be a leading innovator in the UK's nurse call industry for 50 years. High-quality UK manufactured technology coupled with class-leading support is trusted by well-known care homes, NHS Trusts and private hospitals.
Courtney Thorne's wireless SMART nurse call system is designed to help with service improvements and operating cost savings. We provide live data into the hands of decision-makers to aid them in monitoring and improving resident safety and staff activity which also acts as a crucial audit tool.
Courtney Thorne is committed to giving a high-quality service, from initial consultation and installation to ongoing customer service. Our consultants are experienced at advising on the most economical solution whilst meeting your exact requirements. Our team of directly employed engineers each undergo intense training at the C-T Technical Assistance Centre and are available 24/7 to provide any support and assistance you may require.
Find out more at www.c-t.co.uk or call us 0800 068 7419.
Cura Systems

(Supplier)
---
27 Edgware Court, High Street, Edgware, London, HA8 7NP
---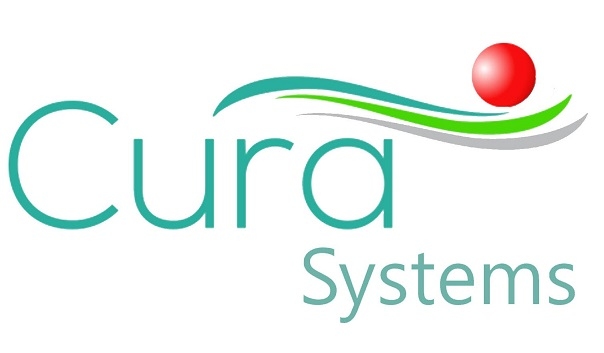 Cura Systems is the leading innovator in Care Home Management Systems. We support care homes of all types and sizes, whether that be a family run, singular care home, a larger care provider, or those providing specialised care to residents with dementia and/or learning difficulties. However complex and demanding your care requirements Cura can support you.
We offer intelligent and modern care planning, medication management, staff planning, notes and time and attendance monitoring software. By using Cura's suite of applications, your care team will have more time to care for your service users and will feel more confident and reassured in performing their care tasks. Together we can go further to safeguard your residents and care workers.
Wouldn't it be a revelation to remove the use of paper within your care home? Cura uses images, videos and talk to type functionality to create an all-digital, care planning, monitoring and medication management solution. You will have real-time access to a full data trail to prove you are delivering outstanding care to the CQC, management, families and friends.
Cura is tailored for each resident as we believe it is vital that care delivery is about the person. We give you the tools to achieve person-centred care and monitor health trends and individual residents' outcomes.

We understand you and your team are the experts on health and social care, the resident is the expert on themselves and how they feel and our expertise in building easy to use, modern care IT systems makes a powerful team. Working together, we can deliver continually outstanding care. We pride ourselves on best-in-class support and service so our engagement is not just for the short term. Our dedicated team will support and guide you through your adoption of Cura.
Why Cura Systems?
· We focus on simplifying your workflow
· We offer the most comprehensive solutions for demanding care needs
· We are incredibly responsive to your requirements
· Our support is best-in-class
· Our service is personal to you
· Our integrity is everything
· Security of your data is really important to us
Twitter: twitter.com/CuraSys
LinkedIn: https://www.linkedin.com/company-beta/13198259/
Google+: https://plus.google.com/105316180456386517392
everyLIFE Technologies

(Supplier)
---
everyLIFE Technologies, A1 First Floor, East Wing, Cody Technology Park, Ively Road, Farnborough, GU14 0LX
---
The PASSsystem is…
…the industry standard in digital care management used by over 600 care services across the UK.
The PASSsystem's real-time updates to care notes and MAR sheets keep thousands of care staff equipped with the latest data about their customers, dramatically reducing risk and costly administration and improving the quality of care delivery.
Care has evolved from family care, through residential care to the growth of homecare and, of course, the combination of all. Now care is evolving once more, driven by heightened consumer expectation, increased demand due to an aging population, and the advancement of mobile technology solutions such as The PASSsystem.
The PASSsystem was created by everyLIFE Technologies and is the industry standard in digital care management because of our unique understanding of not only the current issues facing the care industry, but our ability to look ahead and cater for the needs of care in a connected world.
GRP Finance

(Contact)
---
GRP Finance Danesbury Barn Village Road, Houghton Nr Stockbridge, Hampshire, SO20 6LH
---
Until October 2006 GRP Finance was known as G R Patrick & Company (Finance) Ltd and was part of the G R Patrick Group, a name synonymous with the care sector for many years and well known to National Care Association members. Following the split up of the Group at that time, GRP Finance has continued to flourish as an independent finance broker, providing specialist mortgages and business development loans to the care home market.

With over 20 years' experience, GRP Finance is a Preferred Business partner of the National Care Association and is able to use its considerable expertise to arrange competitive funding packages tailored to suit individual care home owners. As a broker it has access to all the major banks and other principal lenders and is able to make informed comparisons while sourcing the most appropriate financing. Consequently GRP Finance can save home owners both time and money - as well as considerable frustration - at a time when funding is becoming increasingly difficult to obtain.

As director Richard Nunn observed, "Over the last 18 months GRP Finance has established itself under its changed identity and build on its many years of experience. It continues to grow and we look forward to the opportunities ahead, serving our many clients in the care sector and developing our close relationship with the National Care Association."
​Hallidays

(Supplier)
---
---

Healy's LLP

(NCA Sponsor)
---
Atrium Court , 15-17 Jockey's Fields , London , WC1R 4QR
---
Healys is a leading UK law firm with international reach.
Healys' Employment Team have a strong reputation, providing businesses with top level, pragmatic, strategic and commercial advice – whatever your needs. Technical excellence and a deep knowledge of people management is a given.
We recognise that the management of people issues captures more than just knowledge of employment law, and we work closely with our clients to seamlessly manage any issues that arise in the workplace. Our clients range across many public and private sectors, including financial services, care, retail, construction, and recruitment. We work with businesses of all sizes, including large corporations and SMEs.
Supporting Employers & HR

Employment law advice and practical guidance for businesses
Business protection and restrictions
TUPE and its application to outsourcing, and the sale and acquisition of businesses
Restructuring
Workplace data privacy
Employment Tribunal and High Court litigation
Employment law training
Investigations
Workplace mediation
Reputation management and audits
Howden

(NCA Sponsor)
---
129/130 Edward Street, Brighton, East Sussex, BN2 0JL
---
Howden has been the National Care Association's preferred insurance provider since 2005, a partnership of which we are very proud.
Our Care division (which includes Care Home Insurance Service, CHIS and PrimeCare) has over 20 years' of experience and expertise in providing insurance solutions for care homes in the UK.
All our products and services are designed around the particular needs of care providers. We work together with you to understand your businesses risks and help design an insurance solution that aims to provide the right cover for your business. From the simple things, such as protecting a company mini-bus, to the more complex, such as safeguarding an attack on the business registration.

If you have a question relating to any insurance matter, please speak to a member of the team on 01273 645 920.
IPA

(NCA Sponsor)
---
IPA Purchasing Oak House, 39-41 The Parade Claygate, Surrey, KT10 0PD
---
IPA Purchasing - the appointed purchasing consortia to the National Care Association.
Free Purchasing Service & No minimum contract period ... as we are confident in our ability to deliver the best savings and supplier service you can have
Discounted prices with more than 300 suppliers • Continuous Price Analyses to monitor and control your costs without compromising on quality
Quality and Food Safety Approved Supplies guaranteed in our Due Diligence Contract • Monitored Supplier and Delivery Performance to ensure accurate service
Assigned Product Sourcing Specialists dedicated to deal with all of your enquiries and resolve any invoice or supplier issues if they should occur • Frequent Customer Care dialogues and visits to make sure you are 100% happy
Training by the suppliers and Extended Warranties from manufacturers • Comparative Performance Reports give a clear indication of the effect of food policy decisions
Supplies Sourcing Service for products you require on a more infrequent basis. • Supplier Offers and Promotions with Samples sent out monthly so you are informed first hand of the best deals
Option of Central Billing Scheme to pay all of your monthly invoices from different suppliers in one payment. • Points Reward Scheme to earn money while purchasing. Points can be redeemed at the end of the year either by a credit note against your account or a cheque.
With IPA you can Save up to %50 on your invoices with leading catering, clinical & medical, furniture, equipment, uniform, utility and many other suppliers.

See a selection of the most popular suppliers:

3663
Brakes
Dairy Crest
KFF
NCB Foodservice
Bunzl
Cannon
Intacare
Johnson Diversey
Aid Call
Care Shop
Meltemi
Badgemaster
JLA Ltd

(Supplier)
---
JLA Limited, Meadowcroft Lane, Ripponden, West Yorkshire, HX6 4AJ
---
As the UK's leading supplier of commercial laundry machines, JLA continues to be the care industry's number 1 partner of choice for providing solutions that will reduce the hassle and cost of running critical areas of your business - and deliver the highest standards of hygiene. Our OTEX Ozone Disinfection system is unbeatable when it comes to killing micro-organisms such as MRSA and C.Difficile, while our latest SMART Wash and SMART Dry technology could save you around a third on your energy bills. Across all our innovations though, specially formulated JLA detergents will ensure you get the best wash in every wash.

But our expertise doesn't end there. Our new range of cooking, refrigeration and dishwashing equipment (including combi ovens, oven ranges, fridges, freezers and dishwashers) means you can benefit from first class machines and service in your kitchen too. And because we know how important infection control is to you, we've also developed a range of time-saving sluice room solutions to enhance your hygiene procedures and make life easier and more pleasant for both staff and residents.

Of course, whatever you need in terms of equipment is backed up by unrivalled support. In addition to market-leading machines, we offer 7-day breakdown cover, rapid response and 24/7 freephone assistance and planning/design services as well as project management capabilities.