4th May 2017
Learn, meet and network at the Care Forum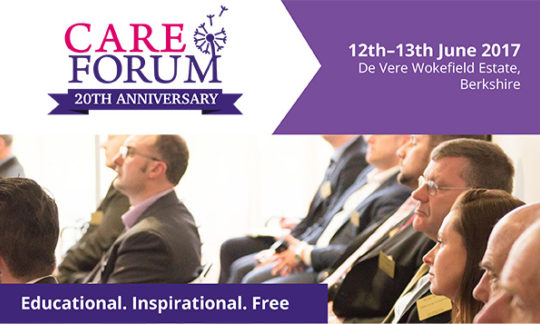 Keeping pace with change in the care industry can be a tough job whether in terms of new legislation, facilities, recruitment or latest innovations in care techniques.
Which is why the seminar programme at the Care Forum is unmissable for professionals working in Care Homes, Nursing Homes, Housing Groups, Supported Living, NHS, Hospitals, Dementia Care, Mental Health and more.
Learning and professional development is high on the agenda throughout the event, which takes place on June 12th & 13th 2017 at the De Vere Wokefield Estate, Berkshire.
The two-day seminar programme, hosted by industry thought leaders, comprises keynotes and panel sessions addressing key issues relevant to all care professionals.
The seminar programme kicks off with a presentation by June Andrews, a dementia care consultant at Sedaca. 'New Approaches to Dementia' will provide an understanding of why what makes a difference in dementia care is essential for success in care provision, whilst revealing evidence of what does and does not work.
The sessions then split into two streams. Debbie Harris, director at Chosen with Care will present 'The Do's and Don'ts of Looking after Self-Funding Clients, while Bhavna Keane-Rao, lead consultant at the BKR Care Consultancy, will examine 'Workforce – Opportunities & Challenges'.
'Everything You Need To Know About Paying For Care' is the topic of the session taken by Owain Wright, founder of Care Funding Guidance. Running alongside this will be a talk looking at how to 'Create Stylish Care Home Design'.
On the second day of the event, Nadra Ahmed OBE DL, executive chairman of the National Care Association will tackle a topic close to most care professionals – 'Stressed But Not Distressed'. Nadra will look at the current challenges faced by the sector and the vision for the future where the need for social care will increase.
Finally a panel of industry experts will discuss 'The Future of Home Health Care: Key Issues & Trends'.
Confirmed Care Forum delegates include representatives from Care Solutions, Four Seasons Health care, HC One, Care UK, The Disabilities Trust, Quantum Care Gold Care Homes, WCS Care, Dorothy House Hospice, Retirement Villages, Angel Care, CHS Group, Country Care Homes, South Tees Hospital NHS Foundation Trust and more.
Care professionals can attend the Care Forum for free, with meals, refreshments and overnight accommodation also included. Each delegate will be provided with a bespoke itinerary of pre-matched meetings with relevant suppliers, providing them with the opportunity to look at tackling new projects and trim budgets.
If you're a care professional and would like the opportunity to take your business to the next level in 2017 and beyond, contact Clare Element on 01992 374068 or email c.element@forumevents.co.uk. If you're a supplier to the care industry and would like to meet with senior care professionals representing some of the biggest names in the sector, contact Jennie Lane on 01992 374098 or email j.lane@forumevents.co.uk.
The Care Forum is hosted by Forum Events, which offers a range of b2b events across various industry verticals.
For more information on the full portfolio of events, please visit forumevents.co.uk.